Food Not Bombs is an unlikely name for a violent terrorist organization. Nevertheless, since its inception, Food Not Bombs has been at the center of multiple government surveillance operations, with present and former members disproportionately represented in courtrooms and jail cells throughout the country.
The story of Food Not Bombs provides a sobering example of the escalation of government infringement of Americans' rights to speak their minds and organize nonviolent political action. Since the passage of the PATRIOT Act, advocates for social justice have expressed alarm about FBI activity that increasingly resembles the notorious "COINTELPRO," a program created in the 1960s to target the supposed threat of peaceful civil rights groups.
On September 20, the US Justice Department's Inspector General issued a report condemning the FBI for opening investigations under "factually weak" justifications and classifying groups participating in nonviolent civil disobedience as "domestic terrorists." And in testimony before the Senate Judiciary Committee in July, FBI Director Robert Mueller acknowledged that surveillance decisions are left entirely to the discretion of individual FBI agents, requiring not even the basis of suspicion, let alone evidence.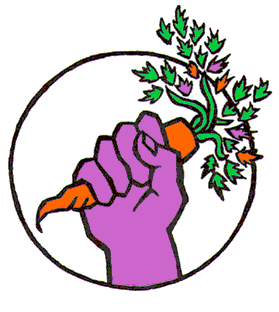 Food Not Bombs (FNB), founded in 1980, identifies itself as an "organization dedicated to non-violent social change." As the name implies, Food Not Bombs' mission includes fighting hunger by serving meals in open, public spaces to "anyone without restriction." FNB organizes non-violent protests and serves free food at activist gatherings.
According to Keith McHenry, a long-time organizer for FNB, law enforcement became interested in the organization shortly after its inception. However, McHenry reports that since the passage of the PATRIOT Act, such interest in the group has "has fully escalated by degrees." Indeed, documents from a lecture presented in 2005 at the University of Texas School of Law confirm that Food Not Bombs was on the list of "Terrorist Watch" groups in Texas. Take what happened when McHenry tried to drive FNB activists to protests at the 2004 Republican National Convention in New York City.  "My first stop was Denver. But the FBI went to one of the Food Not Bombs meeting places in Denver and questioned the kids, so when I got there, they were freaked out and didn't want to get on the bus. I went to Lawrence, Kansas. The same thing happened. Then I went to Kansas City. The same thing happened."
The FBI's attention to the activists organizing at the 2004 Democratic and Republican National Conventions has been well documented. In an August 2004 interview on Democracy Now!, Mark Silverstein of the Denver ACLU discussed the visits FBI investigators paid to organizers' households: "They don't sound like a good faith investigation of reasonably suspected criminal activity. They sound much more like visits designed to intimidate these young people from engaging in protest activity."
Organizers faced similar problems at the 2008 Republican National Convention in Minneapolis, where eight men and women were arrested for "conspiracy to riot in furtherance of terrorism." Activists were arrested after local law enforcement raided a Food Not Bombs house that served as a base for convention organizing. Law enforcement officers were led to the house by three informants who had infiltrated Food Not Bombs meetings, posing as activists. Of the RNC 8, as the group is called, three were directly affiliated with Food Not Bombs.
In the twisted worldview that allows the infiltration of peaceful groups with no basis in suspicion, Food Not Bombs proves to be a likely target. FNB literally provides sustenance to the activist community. As such, FNB has become a home base for many young activists, and FNB houses serve as central meeting spaces for organizing. As McHenry points out, Food Not Bombs nurtures connections between many different communities. In a more cynical view, by targeting Food Not Bombs, the FBI may be out to interrupt the development of the next generation of activists. Many young people have found a home in the fellowship and nurturance offered by FNB chapters around the world. As the ACLU's Silverman notes, "The danger, of course, is that these kinds of actions on the part of the FBI could deter people from joining a protest, from signing a petition, from writing a letter to the editor if they feel that that's going to prompt FBI scrutiny…You shouldn't risk having a government police file because you criticized the government." Nor because you are looking for a hot meal with like-minded people who just want to make the world a better place.